Cleaning Plan for Brother Color Printers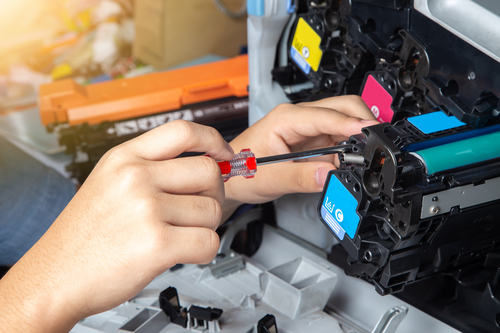 Are you tired of your printer producing low-quality printouts?
Do you have frequent paper jams and streaky prints?
It may be time to implement a regular cleaning plan for your Brother color printer! Poor printouts don't always mean your machine is broken. Instead, issues may just mean that you're neglecting your machine. Like a car, your printer requires constant maintenance.
Here are five tips to follow when cleaning and maintaining your printer:
Protect yourself! Make sure you turn off and unplug your printer before cleaning. Also, wear a mask and gloves to prevent the toner particles from sticking to your skin or getting in your lungs.
Keep your printer manual! Most manuals have a guide on how to properly clean and maintain your printer. Additionally, the manual may offer solutions to common printer problems, which could come in handy.
Remove dust and debris. Dust and debris buildup can cause jams when printing. These dirt particles cause your printer to product streaks of ink that can negatively affect your printouts.
When in doubt, hire the professionals! If you're not sure how to properly clean your machine, call the professionals! Don't rely on your printer manufacturer for help when you could instead have the quality, friendly service of a local company that truly cares about you. MCS offers a wide variety of services and maintenance towards your computer and printer, as well as other office devices. We are an HP Authorized Service Provider (ASP), and our technical staff services nearly all makes and models of print devices.
Printers and copiers need love too! No matter your workflow, at an office, chances are high that you rely on your Brother color printer and copier, and would be frustrated if one or both of them was having issues, or stopped working entirely.
Whether your machine is older or brand-new, a multi-function device or a simple machine, it's important to make sure you take care of it. Think of printer repairs like getting an oil change for your car – regular care and maintenance keeps everything performing like it should!
Other benefits of regular printer maintenance include:
- Limiting the risk of copier/printer breakdown in between maintenance
- Improve the overall performance of printers and copiers
- Helps your machines last longer
Schedule Maintenance for Your Brother Color Printer with MCS today!
If you own or manage a business that relies on multiple printers, you know how much of an expense your equipment, toner cartridges, and paper can be. You also know what a pain it is when you and your staff aren't able to print.
"It's important to take care of your investment and schedule service as soon as your printer shows signs of a problem," Kyle Miller, our resident printer expert, says, "in my opinion, it is good practice to have your laser printers serviced every year, even when nothing is wrong with them."
We truly care about the Ann Arbor community and want to continue to build relationships with small businesses and non-profit organizations.
Contact us today to discuss your needs and to schedule a checkup for your printer!