How to Choose the Right Paper for Your Print Outs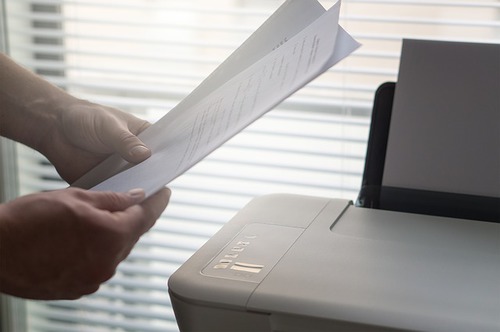 Do you run a business that uses a lot of print materials for marketing and presentations?
Do you want to make your letterhead, inter-office memos, and other print materials look more professional and well thought out?
The answer could be in the paper you're using!
Even though digital technology is on the rise, paper is still important! Even with the most up-to-date printer parts and software, the right paper is key to making your materials look amazing.
Begin Each Project with Paper in Mind
As you begin a project, think beyond the printer and printer parts you need and spend some time thinking about the paper choice:
What is your final product? Is it a book, poster, flyer, business cards, etc.?
How durable do you need the piece to be?
What feeling do you want your piece to convey? Fancy, or more casual?
Will it be text heavy or display large photos?
Choose Between Coated and Uncoated Paper
Coated paper is coated with a surface sealant, covering the tiny pits between paper fibers, which gives it a smooth, flat surface. The result is sharper printing, especially for images. You can purchase coated stocks in a variety of finishes: gloss (high sheen, like a magazine), dull (low-gloss), or matte (non-glossy, almost flat look. More opaque and bulkier).
Uncoated paper feels rougher in comparison and absorbs more ink. Uncoated stocks are available in a range of textures, colors, weights, and finishes. This is common in newspapers, or stationary, and is good paper to write on, making it ideal for letterhead and envelopes.
Make Sure You Have the Right Printer Parts to Get the Job Done!
No matter which paper type you choose for your job, make sure you have the printer parts necessary to make your project more efficient and look its best. Your benefits as an MCS customer don't stop there – we can help with paper needs, too!
Copy paper, specialty paper, engineering rolls, point of sale rolls, and labels are all available with FREE on demand delivery in the Ann Arbor Area. If your business uses an item that is not regularly stocked locally, we will keep a small stock on hand at all times for you so you are never in a panic over a 2-week lead time. You will never pay additional shipping charges and we are happy to deliver directly to any specific location in your building.
We truly care about the Ann Arbor community and want to continue to build relationships with small businesses and non-profit organizations.
We can help with all your printer, labeling, and printing needs, including on-location printer repair in Ann Arbor and the surrounding areas.
Wouldn't it be awesome to be an MCS customer?
Don't miss out on these valuable benefits! Send us an email or call us today!