Tired of Waiting Days for Printer Supplies and Repair?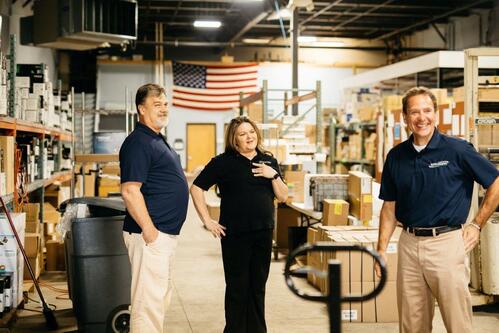 When you need help with tech issues like a malfunctioning printer, we know how frustrating it can be to spend hours on hold with the manufacturer or to deal with long shipping delays.
These days, the supply chain is unreliable at best. What might typically be a three- to four-day shipping window may now be over a week, and when you need ink and toner or other printer supplies for your business, you might not have time to wait.
Even worse, if you're waiting on parts for a repair, you're dead in the water until your printer can be fixed.
Have you considered choosing a local company for printer supplies and repair?
Partnering with a local company a great decision not just to help you save money. The relationship you form with a company that's more than just a big brand name will benefit your own business for years to come.
Fast, Friendly Printer Repair in Ann Arbor
We offer FREE same or next day delivery on most OEM and compatible toner cartridges. We stock a wide variety of printer cartridges that can be hard to find locally. Our customers love our competitive pricing too!
Our customers love our on-demand delivery for their custom label stock. We store your inventory of blank or custom printed labels and provide what you need when you need it.
Both OEM and compatible toner cartridges can fail, so it's important to be sure that they are backed by a solid warranty. OEM toner has a 30-day manufacturer warranty from the purchase date. MCS customers who purchase compatible toner cartridges are always covered by our "no-questions asked" immediate replacement policy.
How Can MCS Help Your Company with Printer Supplies and More?
As a business owner, the supply chain delays we've seen in the last year can be really frustrating. This is especially true when you rely on regular shipments of printer supplies, miscellaneous office supplies, PPE, and other essentials to keep your business running smoothly!
At MCS, we can relate. A huge part of our business is buying ink and toner, copy paper, and replacement parts for our regular customers.
We've also been dealing with supply chain shortages, but luckily with access to some vendors and distributors, we've been able to help our customers find hard-to-find products to keep them going.
We can help you find products and machines that are in short supply right now with our Everyday Essentials program. Even if we have to resort to eBay, we'll do our best to find what you need. We'll assume the risk if something shows up and needs repairs or isn't the real deal.
MCS wants to help you grow your local business by streamlining your processes for printer ink maintenance and delivery, printer repair, and more!
We truly care about the Ann Arbor community and want to continue to build relationships with small businesses and non-profit organizations. We can help with all your printer, labeling, and printing needs, including on-location printer repair in Ann Arbor and the surrounding areas.
Wouldn't it be awesome to be an MCS customer?
Don't miss out on these valuable benefits! Send us an email or call us today to experience the MCS culture of kindness!