Repair or Replace: Solving Common Printer Problems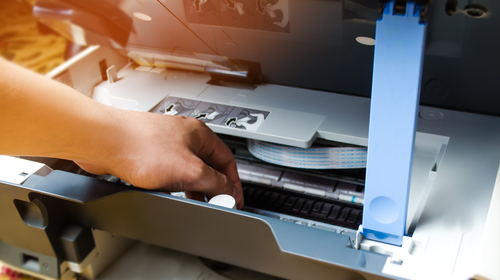 Your business uses its printer at least once a day, more if you're having meetings, or in a business that requires high-quality images and text.
You need to know your printer is going to work when you need it to! If your printer has been having issues lately, you might be at your wit's end. So how do you decide if it's time to replace your printer? What if a few repairs could save it?
Consider these factors before you make your decision:
Age of your printer: Find out when the model was released, not just the date you purchased it. If you've had your printer for five years, for example, but it was released a few years prior, the overall age could impact its expected lifetime and accessibility of parts.

Cost per page: If you're not using a managed print provider, you can find out the cost per page of your device by dividing the cost of a toner cartridge by the number of pages printed before needing to replace it. A newer model printer will often need a higher capacity toner cartridge, saving you money on overall printing spend. (If you're considering a managed print provider, read more here!)

Labor costs for repair: While some repairs can be done on site, others will require parts and a technician. When labor costs are involved, the bill for repair can quickly skyrocket. When deciding whether to repair or replace your printer, consider the total costs of replacement parts and labor.
Lifetime volume of the printer: When deciding to repair or replace, look at the lifetime volume. Printing a configuration page should allow you to see the lifetime volume, similar to considering the overall mileage on a car. Even a new printer can burn out quickly if it's been over-utilized!
If you own or manage a business that relies on multiple printers, you know how much of an expense your equipment, toner cartridges, and paper can be. You also know what a pain it is when you and your staff aren't able to print.
Take care of your investment and schedule service as soon as your printer shows signs of a problem. Kyle Miller, our resident printer expert, says, "In my opinion, it is good practice to have your laser printers serviced every year, even when nothing is wrong with them."
Not only do we offer the friendliest printer repair service in Ann Arbor, but we practically make it a "no-brainer," because when you purchase compatible toner cartridges from MCS, your labor is FREE for toner-related problems.
We truly care about the Ann Arbor community and want to continue to build relationships with small businesses and non-profit organizations. We have the ability to help you with all your computer, labeling, and printing needs, including on location printer repair service in Ann Arbor and the surrounding area.
Contact us today to discuss your needs and to schedule a checkup for your printer. We can also serve your toner needs. Check out a sample of our competitive prices!