Schedule Maintenance for Your Printer and Avoid Printer Repairs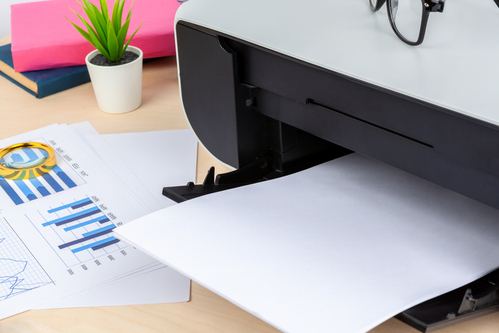 Are you maintaining your printer regularly?
Have you noticed streaks on your printouts, excessive noise, or other printer issues popping up more than usual?
At your office, you likely have at least one printer or copier. You might even have a large printer/copier combo that you use multiple times per day. Printers and copiers do a lot of hard work for your business all day long. To keep them functioning properly and efficiently, it's important to have a regular printer maintenance schedule so you can avoid costly printer repairs in the long run!
Printers and copiers need love too! No matter your workflow, at an office, chances are high that you rely on your printer and copier and would be frustrated if one or both were having issues or have stopped working entirely.
Whether your machine is older or brand-new, a multi-function device or a simple machine, it's important to make sure you take care of it. Think of printer repairs like getting an oil change for your car – regular care and maintenance keeps everything performing like it should!
Other benefits of regular printer maintenance include:
Limiting the risk of copier/printer breakdown in between maintenance
Improve the overall performance of printers and copiers
Helps your machines last longer
Still on the fence about setting up a regular maintenance schedule? Hear from one of our happy customers about why they love the MCS Culture of Kindness!
"I have worked with Michigan Computer Supplies for about two and a half years. They supply us with toner cartridges each month for about 17 printers, of which some are large volume printers. We also order Zebra printers and labels, Ethernet cables, bar code scanning devices and more. You name it. They have it. Occasionally we have also purchased printer devices and have had items repaired by them as well. I typically call once a week because we go through so much toner. When I call to let them know that we are getting low on supplies they are very efficient with their response time. Kyle delivers new toner by the next day and removes the old cartridges and recycles them. In addition, Jessica often mentions other cost saving measures such as quantity price breaks or recommends a compatible refurbished cartridge to save money. They try to give their customers the most bang for their buck! They are a great group of people to work with. They are very customer oriented and go above and beyond expectations. They really care about their customers."
MCS – The Solution to All Your Business Needs
Helping Southeast Michigan businesses save time and money with their printing needs has been MCS' top priority for more than twenty years.
Here's what our customers tell us about their experience:
Their pricing is as good or better than big box and online stores
The quality and caliber of service far exceeds that of any name brand supplier
They are very responsive to our needs, and timely in their responsiveness
They help us directly or indirectly save time, energy, effort, and money
Their delivery promises are just that - promises - and we can count on them to keep them
They will even help us to resolve our no print and printing issues
They guarantee their products and offer free replacement if there is ever a problem
Our mission at MCS is to provide the very best value in printer repair and service, custom labels, bar code and data collection products, paper, and more to the Ann Arbor business community and beyond. Your custom labels and hard to find supplies can even be stocked at our warehouse for on-demand delivery!
Give MCS a call and let's start your culture of kindness experience today! You'll be glad you did, and we can't wait to help you!