5 Questions to Ask When Hiring Printer Repair Services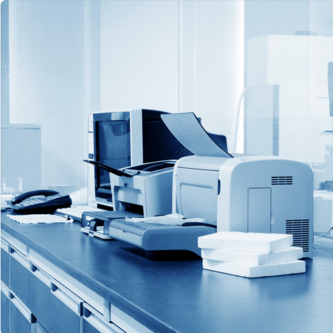 There's no doubt about it, you'll need service on your printer sooner or later, but how do you choose the right printer repair company?
At MCS, we'll come to your office, answer your questions, and make sure you're back up and running in no time. If you're trying to decide which repair service is best for you, consider these questions:
How many years of experience do they have? You shouldn't rule out start-up companies, but companies with established reputations can be easier to research with reviews online. You can read many MCS reviews here.
Do they specialize in the brand of printer you use? Some companies specialize in certain brands. To make sure you're getting the best service possible, ask first.
Are you certified? We're an HP Authorized Service Provider (ASP) and have an experienced technician on hand. Our technical staff services nearly all makes and models of print devices.
Do they offer routine maintenance for printers? It's important to keep all of your printers properly maintained so they keep running and working when you need them the most.
Are there technicians available? How long will you have to wait for a service call while you're stunk in limbo. Hire a printer repair company in Ann Arbor you can trust to get the job done right and in a timely manner.
Why Hire Local Printer Repair Services in Ann Arbor?
MCS has worked hard to build relationships with many small businesses in the greater Ann Arbor community. We want to be more than just your printer repair company. We want to help you with all your business needs!
"Without a doubt the best customer service you can find! These guys truly care about fulfilling your needs. I highly, highly recommend them for repair work or just general service and orders and everything in between! They will go above and beyond to make sure that you are satisfied. Thank you, Chris, Jessie, and Kyle, for everything you do!"
Joseph Mlinac, Google Review
Call MCS for All Your Printer Repair Needs in Ann Arbor!
We truly care about the Ann Arbor community and want to continue to build relationships with small businesses and non-profit organizations.
We can help with all your printer supply, labeling, and printing needs, including on-location printer repair for your printer repair needs in Ann Arbor and the surrounding areas.
If you're purchasing a new laser printer or need advice about which printing solution is best for your home or business, we can help. Contact us today to discuss your needs!