4 Reasons You Shouldn't Repair Your Own Printer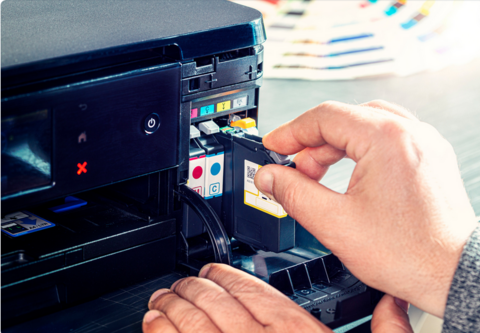 Having trouble with your printer and not sure what to do next?
Thinking of doing your own printer repair?
Trying to repair your printer but don't have the experience?
We understand how frustrating it can be to see an error message on your printer. And when money is tight, it can be tempting to pop the hood on your printer and try to dig in and fix it yourself. But the truth is, without the right experience, there's a good chance you're doing more harm than good. Printers are different than many electronics with many moving parts and mechanisms. So, even people who are great with technology can struggle with printer repairs.
Here are the top 4 reasons to avoid repairing your own printer.
1. Where's the paperwork?
What's the first thing you do when you open a new piece of tech or gadget? If your answer was "throw out the manual" then you definitely shouldn't be attempting your own printer repair. Most people do the same thing, so it's nothing to feel bad about, but if your printer manual landed in the trash years ago, you will basically be going in blind to any repair attempt.
Instead of struggling and scrambling to figure out your printer, leave the repair to professionals. At Michigan Computer Supplies, we know how printers work down to the smallest detail. We can diagnose common and complex issues quickly and fix them efficiently. Even if you have a manual, the time it takes you to figure out the problem may not be worth saving a few dollars.
2. What parts do I need?
Unlike car or computer parts, you can't just walk into a store and buy replacement pieces for your printer. While it's possible to find parts online, knowing exactly what you need is easier said than done. Most parts are only compatible with certain brands and certain models. Additionally, product listings aren't novice friendly, so it can be a challenge just to figure this out what you need. After all that, if you find the right parts, you'll be paying a full retail price.
We spend our days with these machines and parts and can help you develop a working knowledge of what works for each brand. We are also able to get help you find parts at a much better rate than you are likely to find on your own.
3. What does the warranty say?
If your printer is still under warranty, you really want to avoid DIY printer repairs. Fiddling with your machine yourself could void the warranty.
Leave the printer repair to the professionals and you'll keep your warranty intact. We'll also be able to help determine if you can make a claim under warranty and hopefully save you money!
4. They didn't teach us this in school!
It all comes down to experience. There aren't many people around with skills and experience in printer repair. So, if you try to fix your issue on your own, you might only have internet searches as a guide. That works for some things, but printers are intricate machines that could easily be damaged by an untrained hand.
Leave the printer repair for your Ann Arbor business to us! We have the experience you need to get your machine up and running quickly while trying to keep costs down for you, too! Michigan Computer Supplies offers a variety of service options so you can put your printer frustrations in the past. Contact us today!