The Best Way to Dispose of Toner Cartridges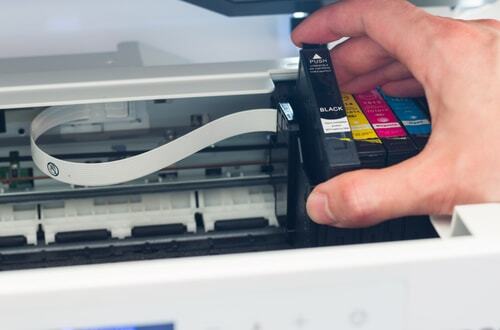 You've just replaced the ink cartridge in your office computer. Do you know the safest way to get rid of your waste?
If you're like most businesses, you generate e-waste on a regular basis. Perhaps you've been storing your e-waste until you find a suitable, inexpensive source for disposal.
Here are 3 ways to dispose of toner cartridges correctly and safely:
Contact the manufacturer to take your empty cartridges. Many major brands have their own recycling programs you can take part in.
Find a local company to take your cartridges! MCS collects empty toner cartridges, obsolete computers, monitors, printers, and other office equipment from our current customers FREE of charge! Not our customer? We're happy to pick up your e-waste for $100.
Toner cartridges should always be disposed of in an appropriate container or bin and shouldn't be treated like a regular trash item. If you're at home, you can put your cartridges in the recycling bin. At the office, find out if a recycling program is already in place.
Toner Recycling is a Better, More Eco-Friendly Alternative!
If you want to reduce your carbon footprint, now's the time!
Recycling your toner cartridges, obsolete computers, monitors, printers, and other office equipment makes a positive impact the environment. If you're overwhelmed, choose one item to recycle. For example, your toner cartridges. Check out these facts about ink and toner recycling:
Each year over 375 million empty cartridges end up in landfills or incinerators.
Up to 97% of materials making up printer cartridges can be recycled or reused, making them eco-friendly!
In remanufactured/compatible toner cartridges the oil consumption is reduced from 3/4 liters of oil per cartridge to almost ZERO!
An estimated 11 MILLION gallons of oil can be saved in 7 months of ink cartridge recycling!
Disposing of toner cartridges safely is critical. If everyone does their part in helping the environment the world would be a much better place!
Our local compatible toner customers enjoy FREE cleanings and routine maintenance as well. This means you'll never have to struggle with nor pay for the installation of fusers, maintenance kits, transfer belts, or other consumable components in your machine.
Turn to MCS for Toner Recycling at Your Ann Arbor Business!
Our mission at MCS is to provide the very best value in printer supplies and service, custom labels, bar code and data collection products, paper, and more to the Ann Arbor business community and beyond.
Give MCS a call and let's start your culture of kindness experience today! You'll be glad you did and we can't wait to help you!
"Michigan Computer Supplies is a fantastic company. The people are helpful and caring. They deliver directly to the person that needs the item to make sure it gets to them. Orders are delivered the next day but they have willingly helped us out in emergency situations with immediate delivery. I can't thank them enough for their great service."
- Susan Corney, Bank of Ann Arbor