Save Money on Ink and Toner with a Brother Color Printer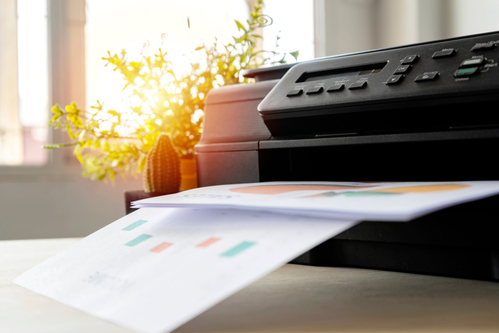 Are you shopping for a cost-efficient color printer for your business?
Are you overwhelmed by the cost of printer cartridges and ink that you spend each month?
If you're buying a new printer for your business needs, it's not just the price tag of the unit itself you should be paying attention to!
A Color Printer is Cost-Efficient if…
… The price is right. While overall price isn't the only important factor when shopping for a printer, you still need to keep it in mind. Printer costs go up when the unit has more features. If you're a home user, chances are you won't need all the bells and whistles of a fancy, high-capacity performance model. If you're a business owner, spending a bit more on a more advanced printer may better accommodate your high-volume printing needs.
… The cost per page is low. Your printer's cost per page is the most important factor to consider when shopping. Different ink cartridges are designed to print a certain number of pages before it needs to be replaced. Laser toner cartridges have much higher page yields compared to ink cartridges. While laser toner cartridges do cost more, their cost per page compared to ink-jet cartridges is much lower. In the long run, laser printers are generally more cost-efficient.
… Compatible cartridges are available for your printer. Most original brand cartridges are not cheap – but you don't have to shop name brand! There are several other options including third-party compatible and remanufactured ink cartridges. These ink and toner cartridges give you a way to cut printing costs by as much as 50% or more!
A Brother All-in-One Printer could be the Right Choice for You!
A Brother color printer is still a popular choice among consumers despite its most popular model being made in 2015. A multifunction printer that can also copy, scan, and fax is a great choice for business owners.
To find out more about buying a Brother color printer from a local company in Ann Arbor, contact Michigan Computer Supplies today! We have the solutions you're looking for!
Trust MCS for All Your Brother Color Printer Needs in Ann Arbor!
We offer a wide variety of services and maintenance plans for your home and business computers and printers, and other office devices. Our dedicated trouble shooting staff can help you over the phone, YouTube, or in person to save you a service call whenever possible. If a service call is necessary, we provide thorough and efficient same day service to get you up and running again fast!
Contact us or give us a call today to find out how we can help you and your business save money and be more efficient!