How to Choose the Right Business Class Printer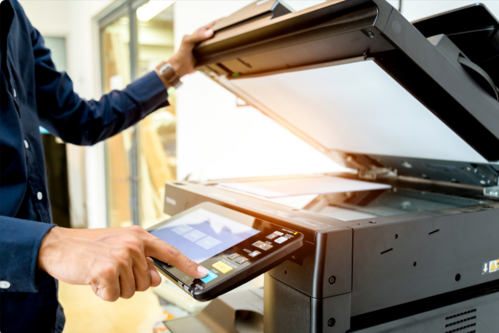 Are you a business owner trying to make a decision about new equipment for your office?
Do you know the right type of printer for your staff to stay on top of projects?
A traditional inkjet printer like the one you might have at home probably won't cut it in the office. In fact, we often tell our customers that it's simply not worth even repairing inkjet printers, as the cost to repair is almost as much as brand new machine.
Laser printers, on the other hand, are a very popular option because of their efficiency, and are the ideal choice if you need a printer that can take high volume, is fast, and is more economical to maintain.
Today, laser printers have all but caught up to inkjets when it comes to image quality, and many models can now produce clean, crisp images that you need for professional grade materials.
When considering the right business class printer, think about:
Duty cycle – Every printer on the market is designed to print up to a maximum quantity of pages per month. Going over this number consistently can result in a lot of wear and tear. That can shorten the lifespan of the feeder system and toner apparatus. Before you buy a new unit, make sure you anticipate how much monthly printing you'll be doing. Get a unit that meets those needs.
Print speed – The quick printing of laser printers is one of their major selling points. Compared to inkjets, laser color printers can pump out pages efficiently both in color and in black and white.
Toner cost – One of the biggest ongoing expenses of printing for your home and your business is consumables, like ink and toner. Make sure you compare cartridge replacement costs of different laser printer options before you purchase a new unit.
Multifunction – For small business owners, selecting a printer that can multitask is key to saving you a lot of money and valuable time. Many laser printers come with scanner/copier features to make document managing quick and easy.
Repair and Service for your Ann Arbor Business Class Printer
MCS repairs most business class printers. We are an HP Authorized Service Provider (ASP) and have an experienced technician on hand. If possible, we'll try to provide tips and guides to correct any printing issues on your own.
If a repair is needed, we're happy to make on-site calls at your business location. We offer a $25 printer assessment! One of our technicians will diagnose the issue(s) and provide you with an estimated cost of repair. If services are rendered, our basic labor rate is $100 / hour.
For our business customers that purchase compatible toners from MCS, all cleanings and toner related issues are covered FREE of charge.