The Importance of Using Food-Safe Adhesive Labels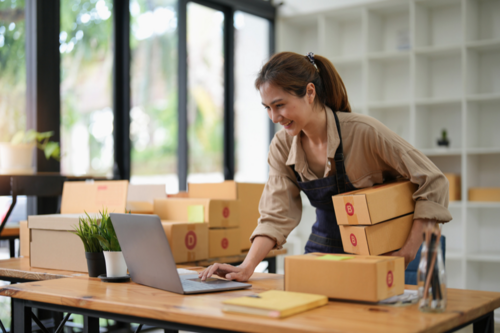 Do you own a food-based small or medium-sized business?
Do you have dreams of growing from just baking or cooking for friends and family to selling your products to the public?
We love to help small businesses get a kick-start on their journey!
When you're thinking about packaging your goodies, it's important that your custom labels comply with U.S. Food and Drug Administration (FDA) regulations to keep consumers safe. For example, adhesives used in food packaging can sometimes come into contact with foods, so the glue needs to pass strict safety requirements.
The FDA defines a food-safe adhesive as a food-contact substance "...intended for use as a component of material used in manufacturing, packing, transportation, or holding foods […]"
Food packaging suppliers often use functional barriers to prevent substances from becoming food components. For example, some companies like cereal producers use polyethylene bags to protect food from ink and adhesives.
Ensure that your food and beverage products are taken care of during the shipping process! As a small business ourselves, we know how important it is to make sure your orders are packed efficiently and get to your customers without issue. Without the right packaging, the whole process gets slowed down.
You'll have products that catch the eye of your ideal customer when you work with us to create:
Permanent adhesive labels
Removable adhesive labels
Freezer-grade adhesive labels
Depending on your product, we'll help you determine the material that best suits your application – paper, laminated, waterproof, or heat-proof. We'll also consider the texture of the packaging the label will be applied to, the temperature of the product when the label is applied, as well as environmental factors that could affect the adhesive, such as if your factory or workspace is humid.
Elevate Your Business with Custom Labels
Wouldn't it be great to unlock the untapped potential of your custom labels and stop customers in their tracks? Get your product out of the shadows and into the spotlight!
Experience our friendly and convenient service and grow your business with food-safe adhesive and custom labels for your Ann Arbor business from MCS. Our customers love on-demand delivery for their custom product labels. We store your inventory of custom product labels and provide what you need when you need it!