Is it Worth Repairing Your Inkjet Printer?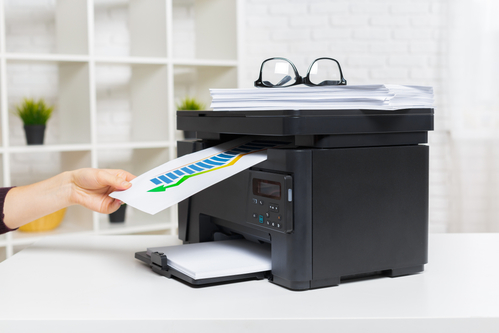 Having a reliable printer is essential for any business. The smallest paper jam or streaky ink issue can be a huge headache, and if you're consistently having issues with your inkjet printer, we know how annoying it can be.
So, the decision comes down to getting your printer repaired, or replacing it altogether. How do you decide? MCS can help! Like cars, plumbing, or heating, it is difficult to find a repair center that can be counted on. Don't you wonder if what is done was completely necessary, because it always seems to cost more? At MCS, we do only what is necessary. If a machine is older or has a repair that would exceed the cost of replacement, we aren't against telling you it's not worth the cost of fixing.
The first step is to ask yourself these questions:
Is your printer repairable? If your printer model is repairable, you might be able to get more usage out of it. Unfortunately, most models are non-repairable due to lack of available parts. In some cases, the cost of the parts is more than the cost of the printer, so it would be a better idea to buy a new machine.
Do you have extra ink or toner cartridges? If you have hundreds of dollars in surplus cartridges, it might be a good idea to repair your printer so you can use the supply you've got on hand.
Would you benefit from upgrading your printer? If your printer is 5 years old or older, it might be more beneficial to check out newer models and replace your machine. Printing technology is continually improving – faster speeds, secure printing, etc., - which can lower the overall cost of printing.
Will the repair cost more than a new printer? As much as you might love your printer, you don't want to spend so more than it's worth repairing it. Look into labor costs plus the costs of parts to do a cost analysis.
We know repairs are sometimes the only choice for those of us working at home, and if you feel a replacement isn't the right choice, we can do a $25 printer assessment to determine what your next steps should be.
One of our technicians will diagnose the issue(s) and provide you with an estimated cost of repair. If the cost is not worth the labor rate, we'll let you know so you don't waste your money or your time. If we think buying a new printer is the best option for you, we'll let you know about that too, and we can even make recommendations about how to go forward and what printer to choose.
To read more about our printer repair service for businesses and business-class machines (including our hourly rate), please click here.
We truly care about the Ann Arbor community and want to continue to build relationships with small businesses and non-profit organizations. We have the ability to help you with all your computer, labeling, and printing needs, including on location printer repair service in Ann Arbor and the surrounding area.
Contact us today to discuss your needs and to schedule a checkup for your printer.