What's the Difference Between Remanufactured Toner and Compatibles?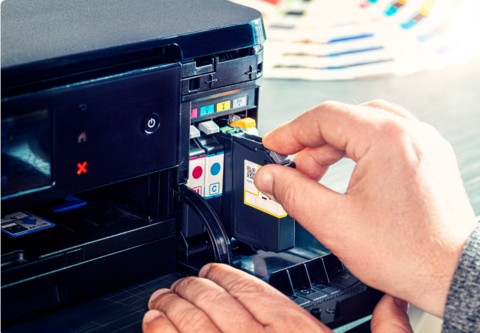 Have you ever wondered about the difference between remanufactured toner and compatible toner cartridges?
Trying to make the best buying decision for your company?
While there's no distinction in print quality based on manufacturing type (compatible vs. remanufactured vs. original equipment manufacturer (OEM), there are differences across various brands and manufacturers owing to the manufacturing conditions as well as the post-manufacturing evaluation process.
Compatible toner is built from scratch to fit into your printer just like the OEM product would. Compatibles are usually made with single use plastics, so keep in mind that while they're usually the cheaper option, they're terrible for the environment.
Remanufactured cartridges use existing cartridges that have been made by OEM manufacturers (HP, Brother, Canon, etc.) and the guts are replaced – things like springs and rollers in the cartridge. The cartridges are also inspected for quality and refilled with ink or toner.
Need Help Making the Right Decision?
Mistakes when buying cartridges can cost you both time and money. If you're running a small business, not being able to get printer supplies when you need them can disrupt your workflow.
We offer FREE same or next day delivery on most OEM and compatible toner cartridges. We stock a wide variety of toner cartridges that can be hard to find locally. We also carry name brand toner like HP, Lexmark, and Brother to name a few. Most OEM cartridges are guaranteed by their manufacturers for 30 days from the date of purchase.
Our Premium Compatibles offer on average a 30% savings from OEM prices and the Standard Compatibles can offer as much as a 60% savings. Our compatible toner cartridges come with a 100% satisfaction guarantee with no questions asked for the entire life each cartridge.
Our local compatible toner customers enjoy FREE cleanings and routine maintenance as well. This means you will never have to struggle with nor pay for the installation of fusers, maintenance kits, transfer belts, or other consumable components in your machine. Find out more about the benefits of compatible toner cartridges from a reputable printer supply company in Ann Arbor. Contact us today! We're happy to help!