How Do You Rate Your Printer Repair Service?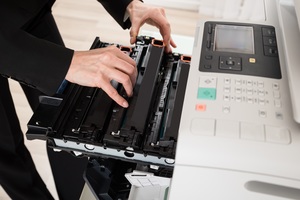 When a printer breaks down in your office, does it slow your workday down to a crawl?
Do you rely on paper materials for marketing, new client/customer meetings, or for employees?
We know how frustrating it can be when your printer doesn't work like it's supposed to. Whether it's a software issue, or streaky prints, you can't afford to lose even an hour of work.
You want your printer to work correctly the first time, and you want a repair service that does high quality work with efficiency so you can get back to business as usual.
Here's what you should look for in a printer repair technician:
Quality of service: Obviously, you want a technician that does a great job! Someone with experience who can get the job done right is important, so you're not stuck with a bigger mess than when you started.
Replacement of toner/ink: Does your repair service also replenish toner and ink in the machine they're working on? Look for a contract that provides printer supplies as well as regular service.
Shop local: Not only is supporting local businesses more important than ever in 2021, but a local company is more readily available to help you when you're experiencing an issue than a big brand. You'll get high quality service you expect from friendly and professional technicians that are from the community you work in.
Wouldn't it be…
Nice to work with a team you could depend on for your print supplies and service needs?
Great if that team's mission was to provide the very best value in printer supplies and service, custom labels, bar code and data collection products, paper and more?
Incredible if that team was nearby?
Awesome if you received valuable benefits along with your purchases?
Your Benefits as an MCS Customer – These benefits are available to all MCS customers, nationwide.
Michigan Computer Supplies offers FREE same or next day delivery on most OEM and compatible toner cartridges. We stock a wide variety of printer cartridges that can be hard to find locally. Our customers love our competitive pricing too!
Our customers love our on-demand delivery for their custom label stock. We store your inventory of blank or custom printed labels and provide what you need when you need it.
Both OEM and compatible toner cartridges can fail, so it's important to be sure that they are backed by a solid warranty. OEM toner has a 30-day manufacturer warranty from the purchase date. MCS customers who purchase compatible toner cartridges are always covered by our "no-questions asked" immediate replacement policy.
We truly care about the Ann Arbor community and want to continue to build relationships with small businesses and non-profit organizations.
We can help with all your printer, labeling, and printing needs, including on-location printer repair in Ann Arbor and the surrounding areas.
Wouldn't it be awesome to be an MCS customer?
Don't miss out on these valuable benefits! Send us an email or call us today!