Recycling 101: Toner Cartridges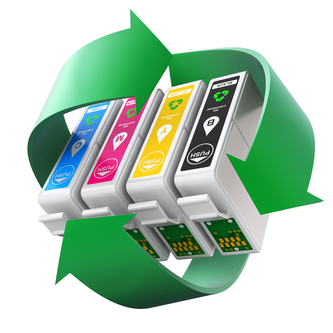 Is your office attempting to go green in 2019?
Are you looking for more ways you can cut down on trash and other waste as you move towards making your business more environmentally-friendly?
There might be something you're overlooking - recycling your printer cartridges!
According to Earth 911, "more than 500 million printer cartridges are sold each year in the United States, and more than half – 350 million of those – are sent to landfills. Toner cartridges are both recyclable and reusable, so more eco-friendly options for disposal exist."
If you want to recycle your cartridges, you have two options: bring them to a retailer to be recycled, or refill them on your own and reuse them.
Is it Better to Recycle or Refill Toner Cartridges?
Reusing ink cartridges definitely creates less waste, but it's important to remember they can only be refilled a handful of times. To refill your cartridges:
Buy a refill kit at an office supply store, or online.
Make sure to protect your hands!
Remove the cartridge and locate the two refill holes or toner refill port, which might be under the label.
There should be directions included in your kit – make sure you read them carefully to determine exactly how to fill the cartridges you've purchased.
Reseal the ink cartridge after refilling it.
Clean the ink refill syringe after each use!
Toner cartridges can't be reused indefinitely. If you have an inkjet printer, don't let the ink run out completely before refilling it. Once your inkjet sponge becomes dried out, they can't be refilled.
Ann Arbor-based MCS is Your One-Stop-Shop for Toner Recycling!
Many retailers have programs where you can bring in your cartridges to participating office supply stores or ship them free of charge. Wouldn't it be great to have someone pick up your e-waste for FREE? You could reduce your environmental footprint and save money! Recycling your toner cartridges, obsolete computers, monitors, printers, and other office equipment makes a positive impact the environment.
MCS collects empty toner cartridges, obsolete computers, monitors, printers, and other office equipment from our current customers FREE of charge! Not our customer? We're happy to pick up your e-waste for $100.
Send us an email or call us today to find out toner recycling in Ann Arbor!