Printer Repair Service Ann Arbor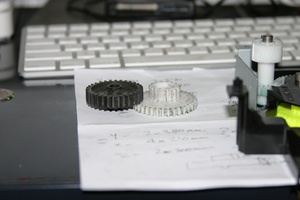 Sometimes a new wheel will do the trick!
► Have you noticed your printer making strange noises lately?
► Do you see inappropriate blurred lines or fonts?
► Is your printer chewing up paper and spitting it out?
You could try contacting your printer's manufacturer for help. Unfortunately, they could tie you up on the phone for hours or take weeks to answer your email. Wouldn't you prefer having a friendly technician come to you to help with your printer repair service in Ann Arbor?
If you own or manage a business that relies on multiple printers, you know how much of an expense your equipment, toner cartridges, and paper can be. You also know what a pain it is when you and your staff aren't able to print. It's almost as bad as being without the internet…Almost! (We can probably help you with that too!)
It is very important to take care of your investment and schedule service as soon as your printer shows signs of a problem. Kyle Miller, our resident printer expert, says, "In my opinion, it is good practice to have your laser printers serviced every year, even when nothing is wrong with them."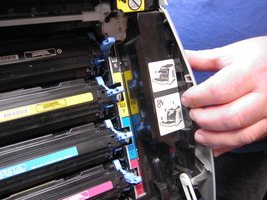 Nice new ink!
Not only do we offer the friendliest printer repair service in Ann Arbor, but we practically make it a "no-brainer," because when you purchase compatible toner cartridges from MCS, your labor is FREE for toner-related problems.
Thankfully, printers are typically very low maintenance. You'll usually just need to replace the consumables, such as toner, fusers, and drums. Occasionally, you may also need to replace parts such as rollers and drive gears (which pick up blank paper and deliver the printed paper into the tray).
We truly care about the Ann Arbor community and want to continue to build relationships with small businesses and non-profit organizations. We have the ability to help you with all your computer, labeling, and printing needs, including on location printer repair service in Ann Arbor and the surrounding area.
Contact us today to discuss your needs and to schedule a checkup for your printer. We can also serve your toner needs. Check out a sample of our competitive prices!