How to Find Reliable Low-Cost Printer Ink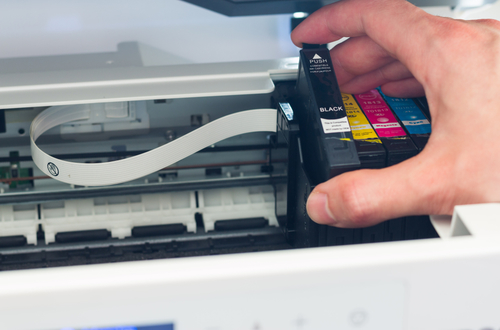 Are you trying to save money on the total cost of printer ink for your small business?
Are the options available online too overwhelming? How do you know you've found a brand you can trust?
Buying printer ink is a necessity for every office, even if you're not regularly printing meeting materials or marketing materials. Someone in your office eventually will need to print something. The last thing you want is to be out of ink when you need it, and have to spend top dollar to get a replacement cartridge at the last minute.
Buying cheaper printer ink is an option, but it's only a good idea if you know how to find inexpensive, reliable brands that still get the job done.
Here's what you need to keep in mind next time you shop:
Pick a big name – One way to ensure you're getting good quality ink is to shop with established online retailers or brick-and-mortar stores that can give you a quality guarantee.
Do your homework – If you haven't purchased ink from a low price before, make sure you ask the right questions. Do they have good customer reviews? Are they open about how they source their ink? Pay attention to any reviews that give the impression that the ink was streaky or lead to clogged heads. Ask the company about inspections on used cartridges.
Aftermarket and Compatibles – Third-party aftermarket compatibles and remanufactured cartridges can lower your print costs by up to 50%.
Remanufactured cartridges are made of refilled, recycled parts. Compatible cartridges are new but built from scratch to the same standards as new cartridges at a lower cost.
Do you wish you could simply order a toner cartridge and have it delivered that same day instead of waiting up to a week to experience crisp prints again?
Michigan Computer Supplies offers FREE same or next day delivery on most OEM and compatible toner cartridges. We stock a wide variety of toner cartridges that can be hard to find locally. Our customers are pleased with our competitive pricing too!
"Michigan Computer Supplies is a fantastic company. The people are helpful and caring. They deliver directly to the person that needs the item to make sure it gets to them. Orders are delivered the next day but they have willingly helped us out in emergency situations with immediate delivery. I can't thank them enough for their great service." – Bank of Ann Arbor
Our local compatible toner customers enjoy FREE cleanings and routine maintenance as well. This means you will never have to struggle with nor pay for the installation of fusers, maintenance kits, transfer belts, or other consumable components in your machine. Find out more about the benefits of compatible toner cartridges.
Are you ready for crisp, clear prints? Contact us today! We're happy to help!