How Long Should Your Office Printer Last?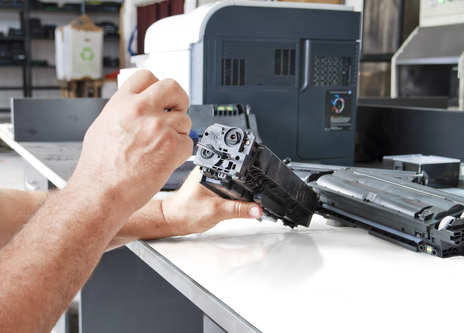 As 2020 comes to a close, are you budgeting for new office equipment?
Do you wonder if it's time to buy a new printer or copier for your business?
A new copier or printer (or combination of both) is a big investment. Before you make a decision, you want to make sure your current machine is absolutely in need of replacement.
Manufacturers usually give a blanket statement that their printers should last around seven years. Depending on the model, it's a little more complicated than that! A printer's lifespan is tied to how you take care of the device, as well as how you use it for your specific application.
How to Determine a Printer's Lifespan
As with most technology, your device arrives with an estimated longevity. Within the printing industry, a lifetime estimate is actually determined by the number of clicks per month a machine is capable of – or how many single pages are printed or copied.
Usually, the larger your printer, the more pages it can print during its lifetime. A more powerful printer or copier can comfortably take more clicks, so consider how much material you need to print in an average week when deciding on the right device for your company.
Can You Make Your Printer Last Longer?
Regular preventative maintenance can help extend the life of your device if you're not ready to buy something new just yet. It is very important to take care of your investment and schedule service as soon as your printer shows signs of a problem. Kyle Miller, our resident printer expert, says, "In my opinion, it is good practice to have your laser printers serviced every year, even when nothing is wrong with them."
Some service providers may take several days to respond or to schedule your repair. You don't have that kind of time!
At MCS, we will follow up with you promptly, and we can troubleshoot by phone to help get your printer up and running. We also provide same day service whenever possible.
Time to Buy?
If a new printer or copier is the right way to go for your business, check out our guide for making the final decision about repairing or replacing. If you need recommendations for a brand or specific model for your needs, we can help with that too.
MCS Customers Save Money!
There are benefits to being an MCS customer! If it turns out that you need a printer part, you can purchase it from us and install yourself or we may even install it for FREE! Do you purchase compatible toner cartridges from MCS? If so, your labor is FREE for toner-related problems.
We truly care about the Ann Arbor community and want to continue to build relationships with small businesses and non-profit organizations. We can help with all your printer, labeling, and printing needs, including on-location printer repair in Ann Arbor and the surrounding areas.
Contact us today to discuss your needs and to schedule a checkup for your printer!